A new luxurious and exclusive safari lodge, Makanyane is situated on private land within the magnificent 75,000 hectare malaria-free Madikwe Game Reserve - home to the Big 5 and a myriad of other animal and bird species. Makanyane, which lies hidden in lush riverside forest, offers unforgettable wildlife experiences, exquisite accommodation and cuisine as well as outstanding personal service. Visit Makanyane Safari Lodge to experience the drama and mystery of Africa's vast natural history, exhilarating wildlife, ancient legends and rich cultural history and to relax and revitalise body and mind.
Makanyane Safari Lodge was designed by a team of award winning architects to effortlessly blend with the surrounding bush. The relaxed yet luxurious interiors complement the design perfectly, tastefully enhancing the atmosphere of comfort in this idyllic environment. The main lodge consists of a beautiful main building and eight stunning suites, which lie hidden in the lush forest, offering spectacular views over the tranquil Marico River. Situated on 1,800 hectares of private ground within the 75,000 hectare Madikwe Game Reserve, the lodge has accommodation for a maximum of sixteen guests, ensuring that each guest has privacy and individual attention.
---
---
Rates

Specials

Accommodation

Activities

A Typical Day on Safari

Climate..

Dining

Getting There

Location

Spa

Why Visit

Weddings

Terms
Rates inclusive of 15% VAT • South African Rands • Subject to availability

Sancutuary Makanyane
1-3 nights
Rate per person
(2 people sharing)
Single rate
Child rate**
01 May '19 to 31 Aug '19
R8 500
R12 750
R4 250
01 Sep '19 to 05 Jan '20
R11 900
R17 850
R5 950
Sancutuary Makanyane
4-6 nights
Rate per person
(2 people sharing)
Single rate
Child rate**
01 May '19 to 31 Aug '19
R5 950
R8 925
R2 975
01 Sep '19 to 05 Jan '20
R10 710
R16 065
R5 355
Sancutuary Makanyane
7+ nights
Rate per person
(2 people sharing)
Single rate
Child rate**
01 May '19 to 31 Aug '19
R5 525
R8 288
R2 763
01 Sep '19 to 05 Jan '20
R10 115
R15 173
R5 058
Rates are per person per night in ZAR
Longer duration pricing is valid for single & multi-camp stays
In addition to the above offers, guests on honeymoon also receive the following:
Honeymoon Special Complimentary Inclusions:
• Beauty Treatments to the value of
1,100.00
ZAR
• Sparkling Wine and Fruit Basket on arrival.
---
LUXURY SUITES AND SLEEP UNDER THE STARS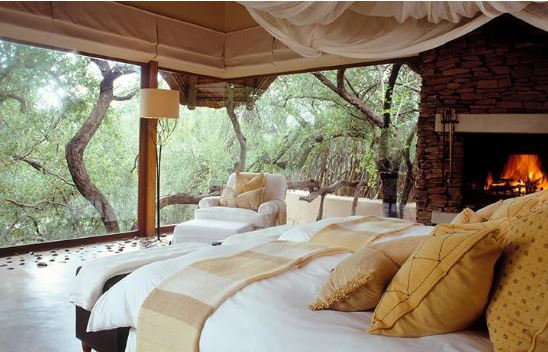 Designed to have minimal environmental impact, constructed from local stone, wood and thatch and blending effortlessly with the bush, the lodge allows guests to continuously experience the natural beauty of their surroundings. Hidden in riverside forest, the eight luxurious suites, each with glass-walled bedrooms, overlook the Marico River, offering uninterrupted views of the surrounding bush.
The suites have open-fronted lounges, private sundecks and spacious bathrooms that can be opened to the forest. The lodge has an infinity-edge swimming pool, gym, health and beauty treatment centre and lookout point with magnificent views.
LUXURY SAFARI LODGE
Sanctuary Makanyane has 8 luxurious and secluded air-conditioned suites.
The wrap-around glass walls allow guests spectacular views of the river, the surrounding bush and its many inhabitants.
The bathrooms are spacious and opulent with roll top baths, inside and outside showers and sliding doors that open the bathroom to the bush.
The suites also have an outside lounge area and private game-viewing sun deck
SLEEP OUT UNDER THE STARS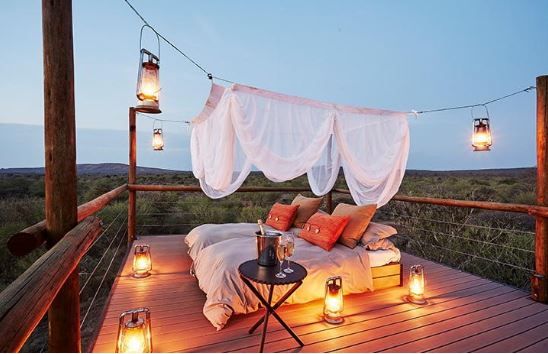 Hidden deep in the bush on the lodge's private ground is a secure, raised hide with a second-storey sleeping deck. Here guests are given the unique opportunity to spend a romantic night under the African sky, surrounded only by lanterns and the African bush, an unforgettable experience! Available for 2 guests. The Hide is seasonal and not available in June and July.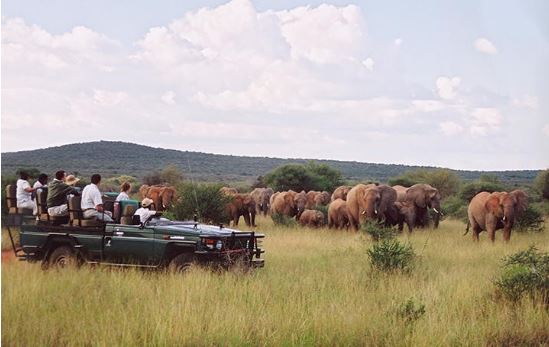 Lion, elephant, black and white rhino, buffalo and leopard are all here in abundance, as well as cheetah, giraffe and both spotted and brown hyena and you have the chance of seeing any of these species. Madikwe is also the one of the best places in Southern Africa to watch the elusive and rare wild dog, a fascinating species on the brink of extinction. Travelling through Makanyane's completely private 1,800 hectares and the 75,000 hectares of the magnificent Madikwe Game Reserve, your guide will share their wealth of knowledge with you, from the fascinating private life of the dung beetle to the intricacies of the wild dog's social system. There are two daily game drives at Makanyane, timed to make the most of the periods when the game is the most active, one in the early morning and another in the late afternoon. The afternoon drive, after a brief stop to enjoy sundowners, continues into the night, a shielded spotlight revealing the nocturnal wildlife of the bush.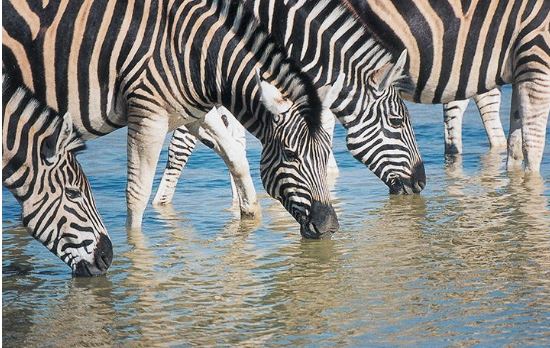 For an even more in-depth exploration of the bush, a game walk is essential. A highly educational and uniquely enlightening experience, your armed and experienced guide will lead you along game paths in the footsteps of the animals, allowing you to feel the thrill of walking through this wild environment. Away from the noise and disturbance of the game drive vehicle, guests are able to experience the more subtle nuances of the bush - the sounds, smells and textures of the surroundings can be appreciated. The walks are planned according to the interests and abilities of the guests and are a highly recommended experience! (Please note that guests under the age of 16 years are not permitted on walks. Guests over the age of 60 are required to produce a medical certificate stating that they are fit for such an activity.)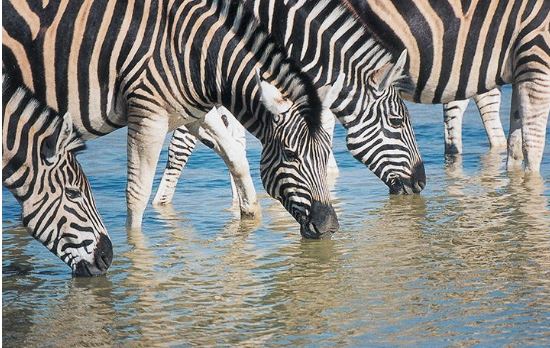 A TYPICAL DAY ON SAFARI


Summer Schedule: September - April




Wake Up: 5am
Light breakfast
Game Drive: 5:30am
Breakfast: 9am
Lunch 1:30pm
Tea: 4pm
Game Drive: 4:30pm
Dinner: 8:30pm

Winter Schedule: May - August

Wake Up: 6:30am
Light breakfast
Game Drive: 7am
Brunch: 11am
High Tea: 3pm
Game Drive: 3:30pm
Dinner: 7:30pm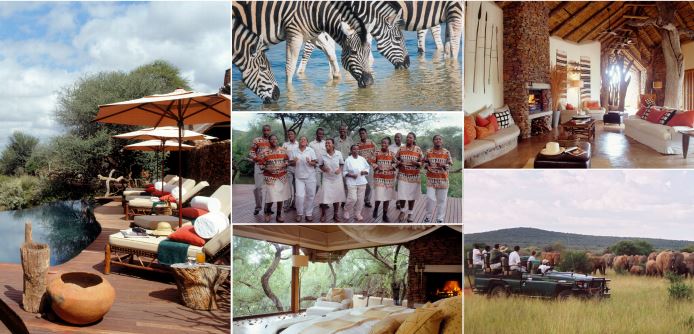 CLIMATE
South Africa is a big country just south of the tropic of Capricorn, but it is the topography and surrounding oceans that influence its climate, rather than the latitude. Although the climate varies from region to region, it is generally mild and sunny throughout the year.

Winter
(May – August)
in Madikwe Game Reserve is generally cool and dry with temperatures averaging between 3°C
(38°F) to 23°C (73°F).

Summer (September – April)
is characterised by hot and wet weather, with temperatures averaging between 25°C (77°F)
to 40°C (104°F). The area is classed as a semi-arid region, with 500 mm (19.5 inches) of annual rainfall. This is usually as
a result of short thunderstorms in the late afternoon or night time during the summer months.
CLOTHING
From November to March light summer clothes are best, although do bring a jumper for the evenings. From April to October warmer clothes are advised as the mornings and evenings can be cold. The days are typically warm and summery though. It's best to bring neutral coloured clothes for the game drives. A complimentary overnight laundry service is offered in the lodge. Comfortable walking shoes or boots, swimwear, sun bock, insect repellent, sun hat and sunglasses are recommended. We have waterproof ponchos in the game-drive vehicles in case you are caught in any rain. Binoculars and good cameras are an absolute must
HEALTH
South Africa requires all travellers journeying from yellow fever risk countries to show proof of yellow fever vaccination by means of a valid yellow fever certificate.
The Madikwe Game Reserve is not a malaria area. Other areas in South Africa are malaria areas, should you be traveling to other parts of the country, please consult your personal physician for more information.
TIPPING GUIDELINE
You are travelling on an independent itinerary and the cost of your program does not include gratuities. Tipping is a very personal matter and should only be considered when our staff have gone above and beyond for you.
Whilst tipping is entirely at your discretion, we advise US$ 30 per person, per day. 1/3 of gratuities is allocated to the guide, and the remainder of the balance is divided amongst the rest of the staff. Gratuities can be added to your account upon check out, given to the lodge manager for distribution, or given directly to the individual staff members.
SPECIAL REQUESTS
Sanctuary Makanyane Safari Lodge prides itself on its personalised services. Please let us know if you have any special requests, interests, dietary requirements, allergies or medical conditions.
PHILANTHROPY PROJECTS
Local communities
Makanyane Safari Lodge actively supports the local communities in the area. The majority of our staff are Tswana people from the local communities, providing employment and advancement opportunities and an exciting and varied livelihood.
Guests at the lodge can actively participate, either financially or practically, in assisting impoverished local communities, thereby also supporting the Madikwe Game Reserve. The Makanyane Children's Tree-planting Campaign is part of our programme where children and their parents are involved in planting saplings in the reserve.
LUXURY, NATURALLY
Sanctuary Retreats was born in Africa with the launch of our first luxury safari camp, Sanctuary Olonana, in Kenya, in 1999. Today, the Sanctuary Retreats portfolio of luxury safari lodges and expedition ships brings a much wider choice of our boutique adventure than ever before – but our standards remain the same. We promise adventure, enchantment and 'Luxury, naturally', all delivered with a quiet, understated charm and understanding of place
DELICIOUS DINING & AWARD-WINNING WINE


Makanyane prides itself on the exceptional quality of its food and wines, adding another memorable dimension to your stay with us. Our meals are skilfully prepared by our executive chef, Mauritz Greef.
Growing up in Cape Town, the food capital of South Africa, Mauritz gravitated to the gourmet food industry from a young age. Beginning his career under the tutelage of one of South Africa's best known chefs, Pete Goffe-Wood, Mauritz discovered he had a talent and passion for creating unique and refined dishes.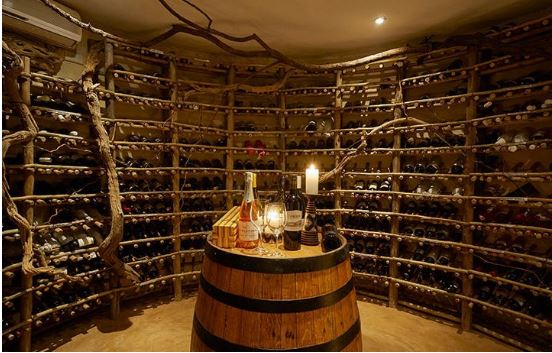 Sanctuary Makanyane has earned an enviable reputation for friendly, personal service, outstanding cuisine and an excellent wine cellar. Fine wines from the award-winning wine list complement the exceptional cuisine, an exciting fusion of local and international dishes prepared using the finest and freshest local and imported ingredients.
MEALS AT SANCTUARY MAKANYANE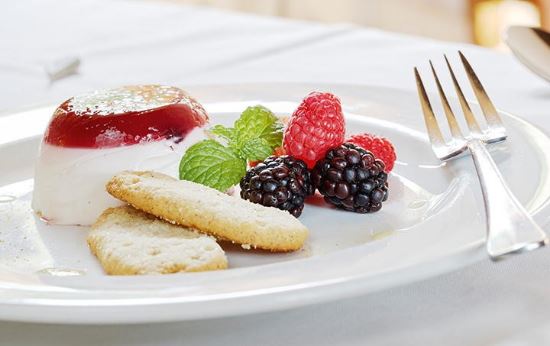 We are renowned for our excellent cuisine. Breakfasts are taken with your guide and any other guests sharing your game-drive vehicles so that you can discuss your safari adventures! The remaining meals are typically private meals, with buffet lunches afternoon teas and a la carte three course dinners where you have a choice of main course. Given prior notice, we cater to most dietary needs and requirements. All the water is filtered and safe for drinking, complimentary bottled water is provided in all the suites and on the game drives. All house wines are included in the rate.
Sanctuary Makanyane Safari Lodge is located in Madikwe Game Reserve,South Africa. The lodge is accessible by road and air.
There are daily shuttle flights between the reserve and Johannesburg International Airport.
TRANSFER TIMES

By air:
OR Tambo International Airport to Madikwe Game Reserve - 1 hr
By road:
OR Tambo International Airport to Makanyane Lodge - 3.5 - 5 hrs
Madikwe Game Reserve airstrip to Makanyane Lodge - 30 mins
The lodge consists of a beautiful main building and eight stunning suites, which lie hidden in the lush forest, offering spectacular views over the tranquil Marico River. Situated on 1,800 hectares of private ground within the 75,000 hectare Madikwe Game Reserve, the lodge has accommodation for a maximum of sixteen guests, ensuring that each guest has privacy and individual attention. Makanyane Safari Lodge is located on 1,800 hectares of private ground incorporated into the magnificent malaria-free Madikwe Reserve in the North West Province of South Africa. Madikwe is 50 minutes by air from Johannesburg. Driving time from Johannesburg is approximately 3.5 hours using the route via Sun City and 5 hours using the route via Rustenburg and Zeerust.
An ideal way to soothe away the stress and strain of everyday life isto let our highly trained health and beauty therapist pamper you. We have a comprehensive list of Health and Beauty treatments, from massage, aromatherapy and hot stone treatments right through to facials and manicures, to ensure that there is something to appeal to everyone.
Guests can enjoy their treatments in the secluded bush spa, on the deck of their suite, or in a variety of locations, such as our look-out point, where the views can be enjoyed during the treatment.
SPA TREATMENTS


Here is a full list of our health and beauty treatments:


Body treatments
Waxing
Specialised treatments
Manicures and pedicures
Body treatments
Sanctuary Makanyane has eight luxurious and secluded air-conditioned suites
Malaria-free Madikwe Game Reserve is home to lion, leopard, elephant, buffalo and black and white rhino.
Expert guides - we understand how essential your guide is to making your luxury safari South Africa unforgettable.
Sleep out under the stars - unique opportunity to spend a romantic night under the African sky. Not available June and July.
Exclusive location - Sanctuary Makanyane is located on 1 800 hectares of privately owned ground which is reserved exclusively for our guests
Exceptional cuisine - fine wines from the award-winning wine list complement the exceptional cuisine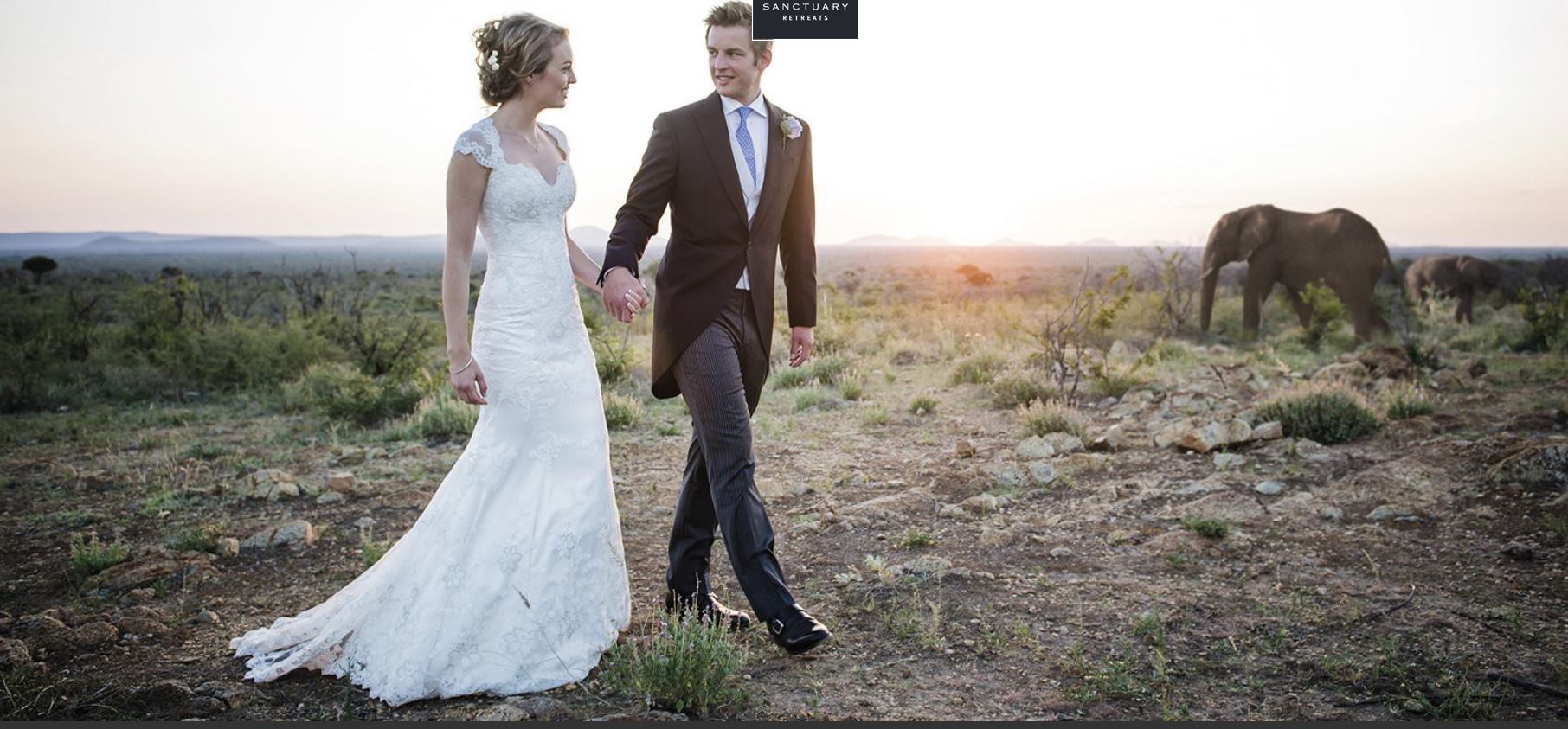 SAFARI WEDDINGS


Whether you're looking for an intimate destination wedding for just the two of you or hoping to celebrate your special day with close friends and family, it's hard to picture a more idyllic location to say I do than Sanctuary Makanyane Safari Lodge – a romantic paradise where the Big Five gather for your big day.
Whilst you soak up the untamed beauty of South Africa, our attentive staff will work tirelessly to deliver the personal touches that will ensure your safari wedding exceeds your wildest expectation. Their raison d'être: to make sure your far-flung fairy-tale comes true in this most extraordinary of locations.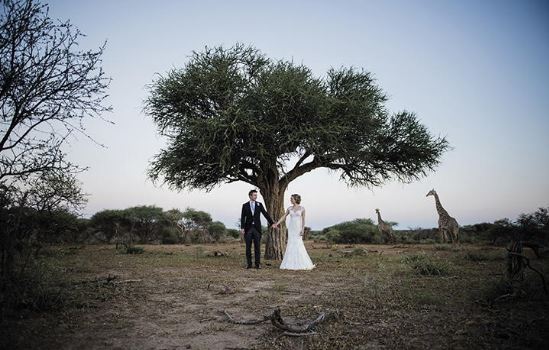 Picture yourselves celebrating your marriage beneath an ancient Tamboti tree, on the banks of the Marico River or overlooking a waterhole.
Imagine being serenaded by the uplifting performance of a local African choir or walking down the aisle to the evocative sounds of the reserve's untamed residents.
To be wed in Africa is to answer the call of the wild. And, with 4,450 awe-inspiring acres of private African savannah, Sanctuary Makanyane Safari Lodge offers a rare opportunity for the two of you to exchange vows in one of the best wedding venues in South Africa.
Wherever and however you choose to say I do we'll help you find the perfect spot that captures your hearts as well as your imagination.
Together we'll help create an exquisite wedding ceremony that takes full advantage of the promised land around you in a way that couldn't feel more natural.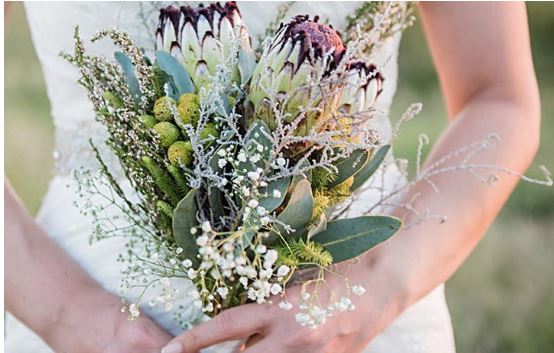 When you choose Sanctuary Makanyane Safari Lodge for your wedding, you'll have a dedicated member of the team to liaise with every step of the way. What's more, you'll have instant access to our carefully vetted shortlist of trusted suppliers, from florists to photographers, who we have worked with successfully for years. Same-sex weddings are also available in South Africa, and we welcome your enquiry.
So, whether you're looking for a secluded ceremony for two or an extraordinary celebration which takes over the whole lodge, we'll work closely with you to ensure every aspect of your wedding day is exactly as you would like it to be.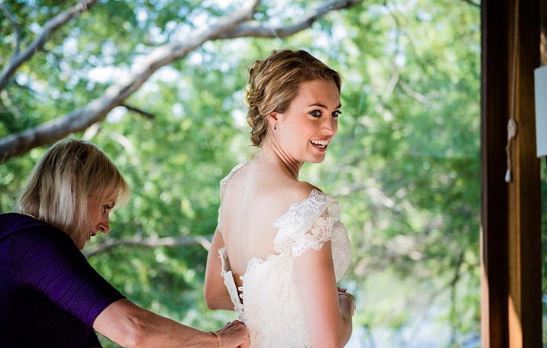 Thanks to our in-house beauty experts, you can rest assured your partner's heart will skip a beat as you walk down your African aisle. From hairdressing and make-up to clothes steaming and an ironing service, let our hands-on team take care of everything so that you can just focus on each other.
For the ultimate pre-wedding pampering, why not take advantage of the indulgent treatments offered by our highly trained team of specialists at our secluded bush spa. With a bountiful menu brimming with manicures, massages, facials and body wraps, simply choose whether to soothe your body and mind from the luxury of your suite deck or from another idyllic vantage point and enjoy dramatic views across one of South Africa's most remote game parks.
Whichever you opt for, simply lie back and let any worries ebb away in the Sanctuary of Makanyane safari lodge.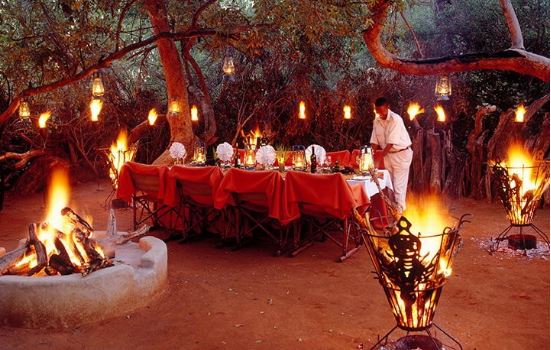 After your VIP safari wedding, it's time to savour the moment with a gourmet reception that's right for you.
Trained by one of South Africa's finest food alchemists, our passionate head chef and his talented team are on hand to conjure up culinary magic and transfix your tastebuds with a unique blend of local and international flavours.
If you're celebrating à deux, an intimate meal underneath the stars or a mouthwatering sunset feast in our open-air Boma could well be on the menu.
Alternatively, perhaps you'd prefer a poolside candlelit dinner for you and your guests or an authentic bush braai out in the reserve, letting the flickering flames from the open fire cast mesmerising shadows across the plains.
For a sweet finale, a wedding cake of your choosing is included in all our wedding packages, whilst our sublime dishes are complemented by a tempting choice of award-winning fine wines from our exceptional wine cellar.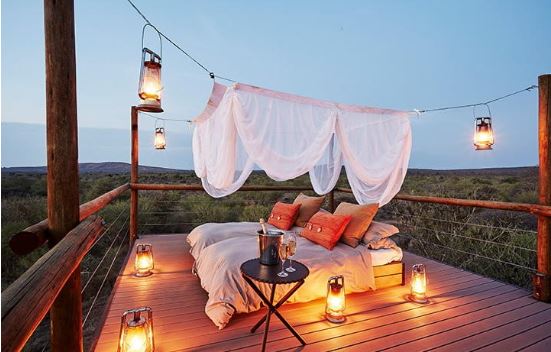 With just eight luxurious suites dotted along the riverbank, Sanctuary Makanyane Safari Lodge is the epitome of romance.
Stylishly furnished and discretely positioned, each glass-walled bedroom offers uninterrupted views across the Marico river and surrounding forest, ensuring you can fold back your windows and enjoy the area's intoxicating natural beauty in total privacy. Where else offers game viewing so exclusive that you can watch the local wildlife wander past your door or wallow in the tranquil waters below whilst you luxuriate in a sumptuous freestanding bath?
For a magical start to married life, why not enjoy an alfresco night under the African sky. Cosy up in our secure double storey hide, watch the sun set across the horizon and listen to the bush lullaby as you fall asleep beneath a canopy of stars. Then, as dawn breaks, gaze down on the Big Five as Madikwe's abundant game approach the waterhole below for a morning drink.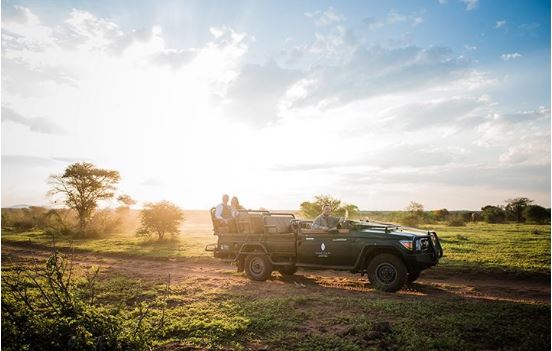 Our luxurious lodge offers unparalleled opportunities to get up close and personal with the local wildlife - making it the dream African safari honeymoon spot.
And, once you've tied the knot deep in the African bush, your luxury safari wedding and honeymoon blend into one. With incredible wildlife viewing to enjoy on game drives as well as from our soothing spa, it's time to truly unwind in a natural nirvana that oozes exclusivity, elegance and relaxed charm.
Sanctuary Makanyane is a safari lodge like no other. We look forward to helping co-create the life-affirming marital moments that will stay with you forever.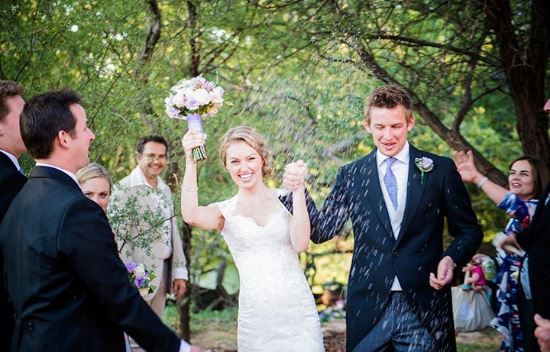 Fully personalised wedding packages start from
ZAR 25,000
and include:
Wedding coordinator
A minister to perform the ceremony
Wedding cake
Hot Stone Massage for wedding couple
African song and dance troupe
Decorated wedding suite
Sleep-out under the stars experience
Private dinner & breakfast for wedding couple
Sparkling wine & fruit platter on arrival
Please Note


All rates quoted are per person per night sharing and are quoted in South African Rand and are subject to change without notice. Accommodation is subject to availability. Please enquire for single supplement, child and third adult rates.
Rates Include

Transfer to and from Madikwe Game Reserve airstrip,
All meals, and non-alcoholic and alcoholic beverages (house wines, local beers, local spirits and soft drinks),
Game viewing activities (2 daily game drives and/or game walks),
Laundry services, emergency medical evacuation and park fees.
Rates Exclude

International and domestic flights, and any road transfers,
Madikwe Conservation Contribution Fee,
Landing fees for Madikwe Game Reserve airstrip,
Travel insurance, boutique purchases, gratuities, spa treatments, and all other items of a personal nature.
Accommodation Information

Triples and quadruples are subject to availability at time of confirming a booking.
There is a maximum of 3 suites per night available for triple or quadruple occupancy in Sanctuary Makanyane Safari Lodge.
There is guide accommodation at Sanctuary Makanyane Safari Lodge that can be booked at a rate of

ZAR 2,250

per night, subject to availability.
Long Stay Rates

Long stay rates depend on season of travel and the duration of the total stay, starting from 4 nights. The total stay can be in one camp/lodge only, or be made up of stays in different Sanctuary Retreats camps/lodges anywhere in Africa. Stays in different camps/lodges do not need to be consecutive, but must belong to one itinerary.

Single Occupancy

All single occupancy bookings are charged at the single rates listed.

Children Policy

Children aged 12 and over are welcome at Sanctuary Makanyane Safari Lodge. A maximum of two children aged 12 – 15 inclusive are able to share a suite with two adults.
Child Rates

The maximum age for child rates to apply is 15 years inclusive.
One child stays free of charge, and another child pays the child rate, when sharing with 2 paying adults in low season, subject to availability of a triple or quadruple suite.
One or two children pay the child rate when sharing with 2 guests paying adult rates in high and peak season, subject to availability of a triple or quadruple suite.
One, two or three children sharing with one adult in low season pay the child rate, subject to availability of a triple or quadruple suite.
In all other circumstances children pay the applicable adult fare..
Payment Terms

A non-refundable 20% deposit is payable within 7 days to confirm a booking with the balance due 60 days prior to arrival.
If a booking is made 60 days or less before arrival the full cost of the booking is payable immediately to confirm the booking.
Last minute bookings are payable before arrival. Failure to pay on time may result in automatic cancellation of the booking with cancellation penalties payable to Sanctuary Retreats.
Cancellation Terms

All cancellations should be made in writing. Cancellation charges are calculated on the total value of the booking.
- If cancelation is received more than 60 days prior to arrival - 20%.
- If cancellation is received from 60 days to 31 days prior to arrival - 50%.
- If cancellation is received less than 31 days prior to arrival - 100%.
Additional fees apply for cancellation of airline tickets and other services, which will be advised as soon as possible after receipt of the written cancellation. Special cancellation terms apply for group bookings and exclusive use of a camp or lodge, which will be advised at time of booking.